TWItTER FIRES BACK AT DONALD TRUMP
The United States have had Donald Trump as President for two weeks and the protests are running wild both on the streets and in social media.  Twitter is the media that is widely used for expressing political views and spreading messages of protest. Yesterday on February 2nd a report was released by Axios revealing that a source who worked for Trump's campaign has stated that he likes his staff to "dress like women", in what the president regards as female clothing.  
It didn't take long for the President's favorite social media Twitter,  to fire back at him – with inspirational posts of women dressed as astronauts, soldiers, doctors or just however they want to dress.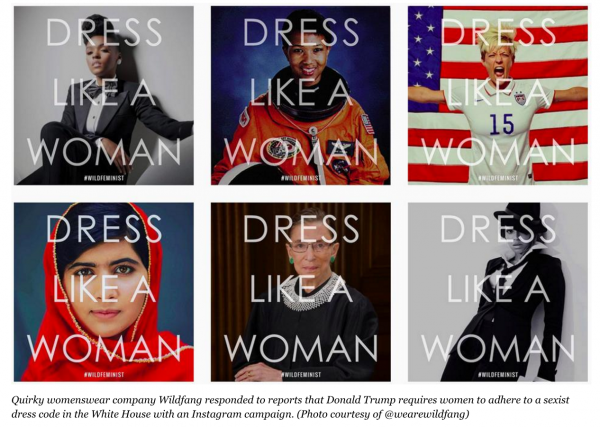 The clothing brand WILDFANG was quick to launch a campaign on Instagram as a response to the whole ordeal with their own hashtag #WildFeminist and pictures of iconic female role models.
SUCCESSFUL HASHTAGS
Hashtags can be a powerful tool for standing up for women's rights and spreading your point of view but can also be successful for your brand. Identify what hashtags to always use when you talk about your brand or the social work or change you are aiming for. It can also be a good idea to start a hashtag campaign and some of the most successful ones are for instance: #ShareACoke (Coca-Cola) & #MyCalvins (Calvin Klein) – see more examples here.
To create a hashtag that goes viral is not that easy but it helps if you:
– ACT FAST, be the first one to comment on a big story and package your content with a catchy hashtag.
– BUILD A NETWORK, your goal for Twitter should be to get into conversations, follow back interesting people and work on expanding your network. Once you have something great to say, people will be up for sharing your ideas!
– BE WITTY, a sense of humor is always good. Think outside the box and dare to stand out in the crowd when you play around with hashtags.
What is your most successful hashtag or hashtag campaign? Let us know in a comment! Follow us on Twitter: @YOURYOUTOPIA